Goodbye 2019, 2020 Here We Come!
This past year, NYJTL created many learning opportunities for NYC youth, from providing SAT prep classes to building a community bond with the NYPD 42nd Precinct. In addition, NYJTL Capstone Events enriched the youth education experience with non-traditional forms of learning outside the classroom designed to get kids on their feet. These events included our STEAM (Science, Technology, Engineering, Arts, and Mathematics) Expo, Visual Arts Showcase, and Youth Leadership Summit, among others.
NYJTL believes that the life skills gained through our tennis and education programs are a catalyst for long-term achievement! Every program, activity and event is designed to enable under-resourced children in New York City to grow with the game and to set them on a pathway of success.
Looking Back – 2019
We coordinated with Nike to give five NYJTL girls the chance of a lifetime to meet Serena Williams, Naomi Osaka, Madison Keys, Simona Halep, and Sloane Stephens during Nike's Queens of the Future event.  The inaugural NYJTL Bronx Open afforded 85 NYJTL kids the chance to get up close and personal with the world's best professional tennis players as ball kids.
Our flagship, The Cary Leeds Center for Tennis & Learning greeted more than 15,000 guests through their doors this year and hosted the NYJTL Mayor's Cup, the NY Empires, the NYJTL Bronx Open, and the US Open Junior Qualifying Tournament, on top of dozens of local and national junior tournaments.  The Cary Leeds Center welcomed First Book and Disney to distribute 20,000 free books to the community and partnered with Tie Break Tens to host a tiebreak tournament and fly out eight lucky juniors to the BNP Paribas Tournament in Indian Wells.
Looking Ahead – 2020
NYJTL is thankful to work with the NY Open again this year to bring our ACES and Community Tennis Program children to see world-class tennis at this 250k International men's tournament!
Meet One of Our Kids!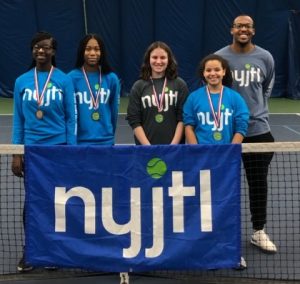 Meet 11-year-old Rachel Breland (third from the left), the Community Tennis Program's Holiday Tournament 14s winner!  Rachel's three older brothers also played in CTP and are now coaches. Rachel plays year-round in our CTP program and has shown incredible growth both on and off the court.
Take two minutes to see our 2019 highlight slideshow featuring NYJTL kids!
Take a deeper dive and view this year's Annual Report to learn more about how NYJTL enables kids to Grow With The Game!
Up Next:
What We're Reading: