Upcoming Events
NYJTL invites you to participate in a diverse range of fundraising events. Support from donors like you is fundamental to the success of NYJTL's free tennis and education programs.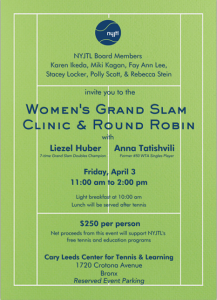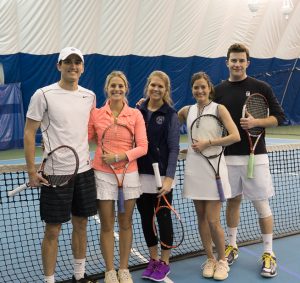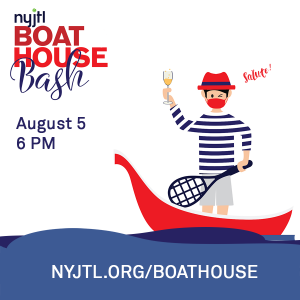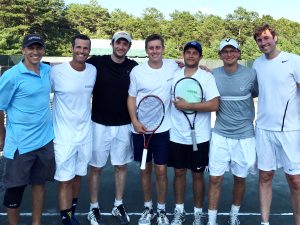 For more information about our events, contact us at gmullis@nyjtl.org.
Women's Grand Slam Clinic and Round Robin
Start your spring session by polishing your skills with Liezel Huber and Anna Tatishvili! Our annual women's event includes a light breakfast, lunch, and two hours of tennis. To learn more, click here.
space
space
NYJTL Next
Just like tennis camp when you were younger! Join our young professions group, NYJTL Next, for friendly tennis followed by sips and bites.
space
space
We invite you to attend our signature summer fundraiser at the Loeb Boathouse in Central Park! Over 500 of our partners and fellow tennis enthusiasts come together for a sparkling evening of dinner, dancing, and diversions! To learn more, click here.
space
space
Leadership Luncheon
For over 30 years, 100% of the proceeds from NYJTL's Leadership Luncheon have directly supported our free tennis and education programs thanks to the Benenson family, who generously underwrites all expenses for this major annual fundraiser. This year's Leadership Luncheon was held at Metropolitan Club on Wednesday, November 6, 2019. Tommy Hilfiger, Andrea Jaeger, and Bethanie Mattek-Sands served as honorees and Christopher Perez and Isis Rodriguez won the student awards. Click here to view the 2019 photos.
Doubles by the Dunes
Doubles by the Dunes is an afternoon of "serious tennis and serious fun" co-chaired by NYJTL Board members Kyle Kliegerman and Robert Rahr. With lunch, drinks, and a Calcutta auction, this event attracts many of the city's elite tennis players and businessmen for a fun afternoon benefiting NYJTL programs and the children of New York City.  We return to East Hampton Indoor Tennis in August 2020.