NYJTL Next is a group of young professionals (21-39) who are passionate about New York Junior Tennis & Learning and its programs. Members provide an important support network and serve a vital role in the success of NYJTL through fundraising and volunteering.
What we have to offer
Join a network of over 200 like-minded tennis and education enthusiasts from industries across New York City and make a new friend, doubles partner, and more!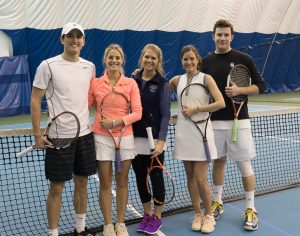 Develop new skills and become part of the next generation of leaders for NYJTL
Participate in fundraising to help ensure the success and longevity of NYJTL programs
Social meet & greet happy hours to connect and network with fellow Nexters
Friendly competition at exclusive Round Robin tournaments with receptions
Volunteer opportunities at the Cary Leeds Center for Tennis & Learning
Upcoming Events
Keep checking back for more opportunities to get involved!
The NYJTL Next Associate Board
Co-Chairs
Jacqueline Corba
Deanna Lloyd
Fundraising Committee
Brian O'Connor, Chair
Roger Briggs
Andrew Scheiner
Esther Tran-Le
Engagement Committee
Catherine Crystal, Chair
Alex Barnes
Brett Rubin
Sumit Nihalani
Events Committee
Kyley Herring, Chair
Scott Cabell
Logan Langberg
Kathryn Lowry
Questions? Contact Genesis Mullis at 347.417.8100 x 8205, or by email.