Last year's Leadership Luncheon was held at the Metropolitan Club on Wednesday, November 6, 2019.  Tommy Hilfiger, Andrea Jaeger, and Bethanie Mattek-Sands served as honorees, and Christopher Perez and Isis Rodriguez won the student awards.
Christopher Perez – Recipient of the Seymour Propp Achievement Award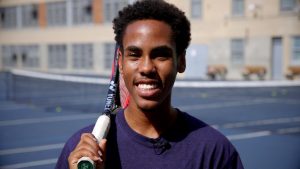 The Seymour Propp Achievement Award recognizes an exemplary student who has demonstrated growth in tennis and life skills during their participation with NYJTL, particularly in the Intensive Training Program. 
The availability of free tennis lessons introduced Christopher to a sport that now plays a central part in his life.  Christopher takes two buses to get to the Cary Leeds Center each day, and despite the long commute, he began showing up for every possible opportunity to play.  He quickly improved, getting accepted into the Intensive Training Program and then eventually the Tournament Team. He played in the 2019 NYJTL Mayor's Cup presented by Disney and joined his high school tennis team, earning the Varsity MVP award the last three years.  In his spare time, Christopher also coaches at the Crotona Park Community Tennis Program site to inspire the next generation to discover the sport that he loves so much.
Christopher's passion for tennis has taught him valuable life skills that he applies off the court and in the classroom.  Juggling school, tennis team practice, getting to the Cary Leeds Center a few times a week, and competing in tennis tournaments takes commitment and time management skills.  Christopher told us, "Tennis has become apart of me and is not just something I can leave behind". With his applications submitted, he is now anxiously awaiting college acceptances. 
Isis Rodriguez – Recipient of NYJTL Sportsmanship Award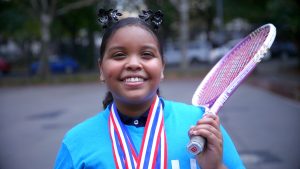 The NYJTL Sportsmanship Award recognizes a student who shows great character and sportsmanship, as evaluated by NYJTL coaches, mentors, and educators.  The winner demonstrates the ability to make all feel welcome on and off the court, win or lose with grace, and serves as a role model for conduct and integrity.  
Tennis has given Isis the opportunity to break out of her shell.  She credits the sport and NYJTL's ACES Afterschool Program for helping her find herself, and sparking an interest and passion she didn't know she had.  Once extremely shy and afraid to speak, tennis ultimately gave Isis the confidence to improve her skills, take risks, and gain confidence in herself. Isis is a leader on and off the court, winning decisive matches for her team and supporting and encouraging her teammates from the sidelines.  Her spirit is infectious: her mom noticed the change, her teammates noticed, and NYJTL noticed. Isis was named the captain of her ACES Afterschool tennis team last year and led them to victory in the elementary team division at the 2019 NYJTL Mayor's Cup presented by Disney.
Isis's transformation through tennis translated to success in school as well.  Her classmates started seeing her confidence in the classroom. Although Isis's middle school does not have an ACES Afterschool Program, she and her mom made a plan to further her success through a local Community Tennis Program, where she can continue making great strides in her tennis and character development.