Tennis has the power to change lives, and the unique influence of this sport can be seen in the stories of Joshuah Gyebi, 18, and Dylan Chervony, 15. Joshuah and Dylan were both students at Icahn Charter School 2, located in the Bronx, where they participated in the NYJTL ACES Afterschool Program throughout middle school. Now, the two are ACES graduates and have made it into their high school varsity and junior varsity tennis teams at the prestigious Fordham Preparatory School.
Though at the time the ACES program was new at their school, Joshuah and Dylan quickly became active in the program. Joshuah resonated the most with tennis amongst his peers. Victor Ayudant, his coach and the Recreational Coordinator for ACES, saw the potential and drive in him. Because of this, he would take Joshuah to play every weekend at the nearby Cary Leeds Center for Tennis & Learning.  Joshuah recalls that he would lose terribly at every one of these matches, but that did not deter him. The greatest lesson he has learned from the experience was the importance of perseverance. "You need to be there for the highs and lows," Joshuah says. Eventually, Joshuah sharpened his skills and became captain of Icahn 2's ACES tennis team for three years in a row. Similarly, Dylan's love for tennis started when he began at ACES. Previously having played basketball, he said "tennis gave me a very different feeling." Dylan loved the unique skills he was learning in the sport. After some time he, too, became captain of the ACES team. Joshuah and Dylan competed in several NYJTL tournaments such as the President's Cup, ACEster Cup, and the Mayors' Cup, now known as the Mayor Dinkins Cup.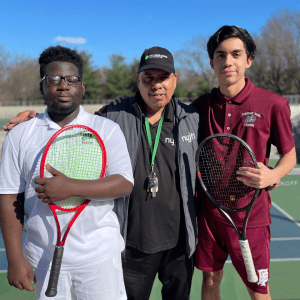 Joshuah and Dylan are not the only two individuals who benefited from Victor's passion for helping young people reach their full potential. To create a sense of community and promote play, Victor brings students from Icahn 2, where he first started as a coach, to play tennis at the Cary Leeds Center on weekends. They practice drills, play matches, and sharpen their skills all while having fun on the court. Joshuah and Dylan were once those children that Victor would bring, but now they help lead the sessions and mentor the young students from Icahn 2. "I want to teach them about leadership. By helping me coach, they learn how to lead by example," says Victor.  
Tennis had an impact on both their lives beyond the tennis court, and played a pivotal role in both their personal growth. "I strived to do better in school just so I could join Coach Victor and play tennis," Dylan remembers. "I'm hard on my kids. They know that the only way they could have fun with me on the court is if they are doing well in school. Tennis and education go hand in hand," says Victor. For Joshuah, the most important life skill he learned was discipline. Tennis taught him to understand his strengths, analyze his weaknesses, and do the same to his opponent. This taught him about self-reflection, and he found himself bringing this to other areas of his life such as school. "It helps me explore how I am doing well and how I can improve," Joshuah says. The many years of playing tennis in ACES taught the boys much about sportsmanship, perseverance, and the ability to deal with adversity- both on and off the court. 
The mentorship and positive role models that NYJTL provided them throughout middle school were deeply influential in their success in tennis and in their own personal lives. Now, Dylan and Joshuah are ecstatic to be playing for their high school varsity tennis teams, and are still volunteers for NYJTL programs such as Serve and Connect with NYPD at the Cary Leeds Center. The boys are planning on attending college, and hope to continue to play tennis in their universities and beyond.