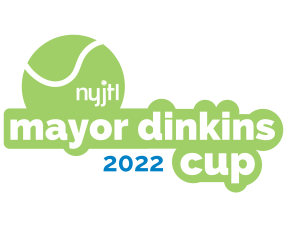 The Mayor Dinkins Cup is the largest free junior interscholastic tennis competition in the nation, with players from all over New York City representing public, parochial, and private schools. Formerly the Mayor's Cup, New York Junior Tennis & Learning (NYJTL) renamed the tournament the Mayor Dinkins Cup to honor David N. Dinkins, NYC's first Black Mayor and NYJTL Board Member for 35 years. This year's Mayor Dinkins Cup will be held at The Cary Leeds Center for Tennis & Learning from May 26 to June 5.
"Renaming the NYJTL Mayor's Cup in honor of Mayor David N. Dinkins is extra special for our organization as the late Mayor was actively involved in our grassroots efforts, whether it be this championship or at our annual National Essay Contest, throughout his long-standing tenure on our board," says Udai Tambar, NYJTL CEO & President. "His devotion to the service of NYC children and tennis was evident to all that encountered him and I am happy that his life-long passions will continue to be championed through our work.  Now every NYC youth will have the opportunity to play in this tournament bearing his name."
History of Mayor Dinkins Cup
Mayor Dinkins had a longstanding connection with tennis, and a cornerstone of his identity as a public servant was his dedication to diversifying the sport. As an NYJTL Board Member, he championed its work to develop the character of youth through tennis and education free of charge to New York City's most vulnerable populations. He was a close friend of NYJTL founder Arthur Ashe, and in 1990 wrote in The New York Times:"These programs teach our young people more than just tennis. They reinforce values such as discipline, courteousness, good sportsmanship, team spirit and responsibility. And because many of these programs are held within our schools, they teach our children the importance of a good education and encourage them to stay in school."  In his tenure as the first African-American mayor of the city, he negotiated the deal to create Arthur Ashe Stadium and helped ensure that NYC remained the host of the US Open, cementing the legacy of Ashe and ensuring that this global event stayed in the city. 
Working closely with the Public School Athletic League (PSAL), Catholic High School Athletic Association (CHSAA), local private school coaches, and tennis supporters, NYJTL formed a tournament committee which created the unique format of team and individual events in both singles and doubles competitions. With the support of so many, the formerly named NYJTL Mayor's Cup became a reality in 1988 and has continued to engage the community ever since.
The NYJTL Mayor Dinkins Cup has offered both individual and team competitions for more than 800 elementary, middle, and high school students. Similar to the NCAA Championships, students of all levels have the opportunity to represent their school as well as to compete in individual events.
NYJTL Scholarships
NYJTL's vision is to enable youth to grow with the game and it is proud to recognize outstanding youth who excel in tennis, academics, and character. Through the newly established Louis Marx, Jr. Educational Scholarship, Victor Kiam "Going For It" Scholarship, and AYS Leadership & Innovation Scholarship, NYJTL is able to recognize exceptional achievement and award college scholarships to outstanding students. NYJTL scholarships will be awarded June 5 at 2 pm at the closing ceremony.
For more information. please visit nyjtl.org/mayor-dinkins-cup/ or contact Tournament Director Michele Cope at mayordinkinscup@nyjtl.org