On February 12, the Cary Leeds Center for Tennis & Learning kicked off Serve & Connect, a community engagement program designed to bring youth and uniformed police together in a fun, physical environment to promote informal mentoring, relationship building, and the delivery of a life skills curriculum. After a two-year hiatus due to the pandemic, the program brought together officers from the 42nd Precinct and youth from the community to participate in activities on and off the tennis court.  
Serve & Connect serves youth from communities in the Bronx, many of whom are from the Phipps and Murphy local housing development projects, and supports the initiation of positive relations with the police. The nine-week program takes place on Saturdays from 3-5 PM, which begins with time playing tennis on the court while the officers are in plain clothes, followed by life skills mentoring in the classroom with uniformed officers. Most of the young participants are shocked when they discover that the adults they were enjoying playing on the court with were police officers all along.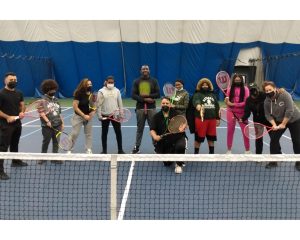 One of NYJTL's core values is commitment to community, which includes a dedication to service, diversity, and inclusion. Now more than ever, relations between police officers and community members, especially those of color, are often characterized by hostility and mistrust. The unique Serve & Connect program initiates relationships between young people and the NYPD through positive interactions, mentorship, and trust.  
NYJTL's very own Recreational Coordinator of ACES, Victor Ayudant, embodies the organization's commitment to community and character in his volunteerism to the program.  Victor has been a part of NYJTL for eight years, first starting out as a Group Leader at Icahn 2 Charter School. Since the launch of Serve & Connect five years ago, Victor has been volunteering to help lead the program. He was drawn to it because of how officers are able to help the community through tennis. As a longtime member of the NYJTL team, Victor has always been characterized by his passion to serve.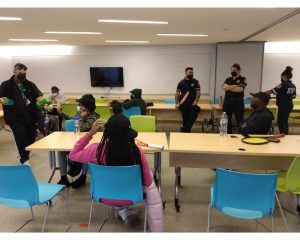 Thank you to Victor, Coaches Marilyn and Michael from the Cary Leeds Center, and the youth coordinator officers from the 42nd Precinct for engaging with our young people and building skillsets that will serve them for a lifetime!