On November 29, 2021, students and players from New York Junior Tennis & Learning (NYJTL) programs were invited to watch private screenings of King Richard. The biographical Warner Bros. Pictures film follows the life of Richard Williams, the steadfast father of tennis legends Serena and Venus Williams, who overcame seemingly unbeatable odds and rampant expectations by training his daughters from Compton, California to become exemplary athletes and role models on the global stage.  
Over the next month, NYJTL is creating opportunities for more than 1,000 students to watch King Richard and is raising funds to ensure that the opportunity is available throughout our ACES Afterschool Program (ACES), Community Tennis Program (CTP), and community-based programs at the Cary Leeds Center for Tennis & Learning. NYJTL believes that it is important for NYC youth to learn about the inspiring story of the Williams sisters' historic rise not only for their monumental growth as tennis champions, but also because they embody its organizational values of character, community, and learning. 
The story of Richard Williams and his daughters showcases much of the life skills that NYJTL cultivates in the youth it serves such as critical thinking, self-direction, competitive spirit, and resilience. King Richard screenings will be paired with an educational component, where students will discuss the different lessons from the film that teach these key themes.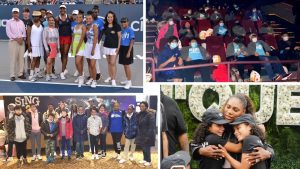 "The Williams family has mastered the principle of resilience," says NYJTL CEO & President Udai Tambar. "Venus and Serena's journeys are a testament to the importance of instilling perseverance and self-confidence in our young people, the way that Richard Williams did with his daughters. We know we can always dream bigger, because we know Venus and Serena did the same and prevailed."   
Serena and Venus have donated much of their time creating motivational experiences for youth off the court. In August 2019, NYJTL partnered with Nike for the Queens of the Future event in the streets of New York City, very close to where the US Open is held annually. Serena Williams was featured in the event, where she inspired girls everywhere to pursue their dreams no matter how big. She spoke with the aspiring tennis stars and shared the lessons she learned from her own journey, expressing that sports played a huge role in her growth because it gave her confidence, courage, and discipline. We hope that all NYJTL program participants learn these principles from the inspiring Williams family and actualize them in their own lives.