On March 8, 2023, to kick off Women's History Month and celebrate International Women's Day, NYJTL invited women of all backgrounds and careers to its ACES Afterschool Program (ACES) sites for a day of career exploration and preparation for future opportunities in STEM, athletics, education, and more. Women visited 10 sites in Queens, the Bronx, and Brooklyn last Wednesday to talk with students about their careers — and then field questions.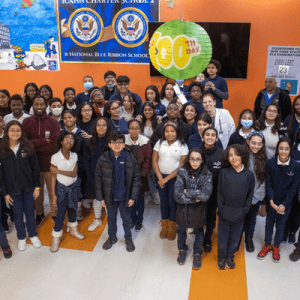 "It was great to see what their young minds are curious about," says Carolina Valencia, Director of Partnerships and Communications at Epicenter NYC, who visited IS 061 in Queens.  
"Seeing the drive and ambition of the younger generation really inspired me," recalls Rachel Nordlicht, MD candidate from the Albert Einstein College of Medicine.
Female professionals from careers in business, medicine, public service, real estate, and more spoke to NYJTL's ACES participants about their pathways in their own educational and professional journeys, leaving our kids inspired and determined!