Tennis is a sport Shenay Perry has enjoyed for nearly her entire lifetime. The hobby began at the age of 4 when she would join her father, a fireman, on his days off to play on the courts in Maryland where she grew up. Soon, her talent for the game became apparent and her parents enrolled her in classes. Perry had a unique aptitude for sports like basketball, but tennis felt the most promising because of its number of female players. "As a young girl, I knew there were others like me doing well in tennis, so it seemed more accessible for someone like me," she recalls. 
Tennis provided a space for her to explore her talents, though it was anything but easy. At the age of 16, Perry turned pro and began a memorable tennis career playing across the world reaching a career-high singles ranking of No. 40 and winning nine singles and seven doubles ITF titles.  
Being a professional tennis player was not easy. Perry remembers the long, strenuous days and constant self-criticism that the career demanded. "Nobody looked like me and that culture shock was hard, but it helped me grow and exposed me to a lot," she says. Retiring from the WTA tour in 2010, Perry notes the often-overlooked social and emotional ways that tennis impacted her life, beyond her more physical skills seen on court.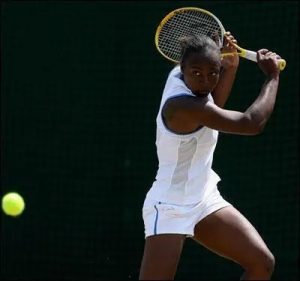 "Touring shaped my discipline, drive, and ability to be present in all situations," Perry describes. "The sport really does develop you both on and off the court."  
Perry now brings these principles and more to her work at New York Junior Tennis & Learning's flagship Cary Leeds Center for Tennis & Learning in the south Bronx where she is the Associate Director of High Performance for Juniors & Adult Programs. Her favorite part of the job is being able to see so much growth in those she coaches. "I love seeing them rise to their potential, and it's special to be a part of their path." 
This growth is most important to Perry, noting NYJTL founder Arthur Ashe as a source of inspiration for her approach to coaching. "When he said 'Start where you are. Use what you have. Do what you can,' it's the epitome of everything," she explains. "You have to put in your best and keep going."