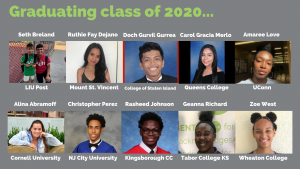 Our kids are the reason we do what we do. One of the best parts of this program is getting to see our students grow and achieve their goals. We're honored to celebrate their milestones with them — none of their hard work goes unnoticed.
Seth Breland
Seth is a recent graduate from the World Journalism Preparatory School in Auburndale, Queens. He will be attending Long Island University Post in the fall with a major in political science. He aspires to run for office, or if not, work for a government agency. During quarantine, Seth has been volunteering on two congressional campaigns, as well as, exercising to keep himself busy.
Seth has been a part of NYJTL since he was five years old, when he, and his three siblings, started playing at PS 205. Him and his siblings have stayed with the program as coaches and site directors. Seth currently coaches at Newtown High School and intends on staying with NYJTL for years to come.
"This program means a lot. The best part of the program to me is the interaction — the people you meet, whether that be the coworkers you're coaching with or just the kids. Each one of the kids are different, they're excited to learn how to play tennis, they're excited to come everyday and see you. It's great to know the kids and be able to teach them something that they love to do and that I love to do."
Seth said his biggest inspirations are his parents, who have worked hard to afford him opportunities, and the kids and coaches he's met through the program.
"I admire the dedication from the students and the staff members who have been there since they were younger, who have coached these kids who are now coaching, as well. I really look to them and their dedication and commitment that the students and coaches have at NYJTL."
Seth says some words that he lives by is his school's motto "Don't stop until you're proud." He said that can span from learning a different style backhand to chasing after his dreams. He tries to approach everything in life putting his best foot forward.
Ruthie Fay Dejano
Ruthie Fay graduated from Hunter Science High School in Manhattan. She will be studying nursing at the College of Mt. Saint Vincent in August, with the intent of pursuing a career as a nurse, and later a doctor after completing some schooling in medicine.
Ruthie Fay loves spending her time exploring the city with her friends, especially going shopping and to museums. However, in quarantine, she has been making a productive use of her time by doing at-home workouts — her favorite is the Chloe Tings challenges. 
Ruthie Fay joined NYJTL when she was twelve years old after seeing how much her brothers had enjoyed the program. It allowed her to meet new people after moving to New York from the Philippines. Her hometown site was Newtown High School. In addition to playing, last year she volunteered with the little kids during the morning session and intends on becoming a coach in future years. Ruthie Fay said tennis serves as a bonding experience for her entire family and is definitely something she sees remaining a part of her life.
"I've been doing this for a long time and I've met so many people who I've grown close to. NYJTL, I feel like it's something so different, because with the coaches it's not really a student and teacher kind of thing, you can treat them like your friend too and it makes you feel more comfortable and you feel more motivated to attend the program. The relationships you build with people who are a part of the program are what make it really great."
She said her biggest inspiration is her dad, both on and off the court. In terms of tennis, she said she values him as a coach because he brings a lifetime of experience and a passion for tennis. As for life, he is her go-to for advice.
When navigating through life, Ruthie Fay said she always thinks to the quote: "Worrying does not take away tomorrow's troubles, it takes away today's peace." She said she used to be an overthinker, but has learned how to live in the moment more, appreciate the things before her, and just trust everything will eventually fall into place as they're meant to.
Doch Gurvil Gurrea
Doch graduated from Newtown High School and will be attending the College of Staten Island in the fall to study nursing, as he aspires to be a nurse when he's older. Doch loves to draw and play tennis. He's been passing the time in quarantine by working out and playing Fortnite. 
Doch started playing tennis when he was fifteen and quickly took to the sport. He has been with NYJTL for three years; his home site being Newtown High School. He hopes to stay with the program in the coming years, serving as a coach.
"[This program] means a lot. I started playing tennis in the Philippines and when we came here this program helped me with how to play tennis and also helped me become a competitive person."
He said one of his biggest inspirations are his coaches; he aspires to take after them and teach tennis himself. Doch said his mantra is  "Never be afraid." He pursues every opportunity with that in mind.
Carol Gracia Merlo
Carol is a recent graduate of Maspeth High School. She will be studying early and elementary education, with a potential minor in sociology, at Queens College, as she hopes to become a teacher.
Carol has a passion for the outdoors, visual arts, and spending time with her loved ones. She said she's been trying to make the most out of quarantine by spending time with her family and going to the park.
Carol started playing at NYJTL's Newtown High School site when she was nine years old. In addition to playing, she has been volunteering at the program for the past 3-4 years and intends on coaching in the coming seasons. She said she never thought anything would come of playing tennis when she started nine years ago, but now sees it being a major part of her life.
"This program means everything to me. I've met so many people, so many coaches that I've become close with and who have become big inspirations. I've met so many great people who I call my family. We can talk about anything, we play even outside of NYJTL."
Carol said it's important for her to have a positive mindset. She thinks you should try to make the best out of everything and savour the moment. Carol said her mom is her biggest inspiration because she encompasses this mindset and is such a hard worker.
Amaree Love
Amaree graduated from Marta Valle High School and will be attending the University of Connecticut, where she will be playing D1 tennis and majoring in journalism. She aspires to own her own business when she's older.
Amaree has a passion for writing, music, and tennis. She has kept herself busy during quarantine reading self-help books and practicing her strokes outside. Amaree said she started playing tennis when she was little but didn't take it seriously until she joined the program at Linden when she was six years old. She said she started to get really good, which motivated her to continue playing. Since then, she has competed in tournaments across the city and will be playing collegiately. She also intends on giving back to the program because it has contributed so much to her life.
"[This program] was a way for me to focus more on myself and get a better mindset. Basically, it built my character. It allowed me to be resilient when facing obstacles."
Amaree said her biggest inspirations are Coach Hector and her father. She said both of these figures have given her a lot of motivation to pursue her dreams on and off the court and have been big contributing factors to both her goals and her personality. She believes, much like NYJTL, that Coach Hector is deserving of the utmost gratitude for all he has done for the program and the kids a part of it.
The quote "If you don't stand for something, you'll fall for anything," is a message that resonates strongly with Amaree. She said in life when you're passionate about something you have to stick by it and work towards your goals, otherwise it will just fall apart.
Alina Abramoff
Alina graduated from Brooklyn Technical High School. She will be on a pre-med track at Cornell University this August, where she will also be playing club tennis.
Although she doesn't have an exact idea of what she wants to be, Alina wants to pursue medicine and go to med school. She also believes tennis will stay a part of her life, and hopes to have a career in coaching or playing on the side.
Alina loves working out as she said it is her go-to mood-booster, as well as cooking and baking for her family, pancakes and waffles being her favorite — she said she always enters the kitchen with an open mind and tries to experiment. She also has a passion for music and reading, one of her favorite books is a recent read called The Brain that Changes Itself by Norman Doidge. Since the courts have opened up, she has been getting some practice in, but she's also spent a lot of time in quarantine practicing her Russian, which she is fluent in.
Alina started her tennis career with NYJTL six years ago. She started out with the Community Tennis Program at McDonald Playground and progressed to the Tournament Team at the Cary Leeds Center. After a couple of years, she went her own way in terms of playing, but stayed with the program as a volunteer and then a coach at NYJTL's Wagner site. She said this program has opened the door to many opportunities for her.
"The second I picked up the racket I just didn't want to leave. I used to play different sports, but I've never been so passionate about any sport other than tennis."
Alina said one of her biggest inspirations is her mom. She said she admires her mom's perseverance, her hard work ethic and her commitment to her values. She said her mom is not only loving and passionate, but has also given everything she has so that Alina can be her best self. Alina also looks up to her senior math teacher who expresses such a love for her job, which Alina aspires to feel about her own career.
"For my tennis career, I wouldn't say there's a person that inspires me. I think it would be the obstacles that I've gone through and how I'm still here. I've experienced a few injuries, one regarding a tennis injury. Knowing that I was able to return to the court and get better and progress motivated me even more. If you got through it with an injury then you can definitely get through it when you're doing fine. That situation inspires me."
Alina's parents instilled in her from a young age an attitude of working hard and pushing through any difficulties that may be presented to make your dreams come true. She said growing up her mantra has been, "In order to be the best self that you can be and get to where you want to be, you don't have to wait for someone to motivate you or for someone to push you, you have to push yourself."
Christopher Valdos
Christopher graduated from Herbert H. Lehman High School and will be attending New Jersey City University where he will be playing tennis and majoring in computer science. He hopes to become a computer scientist involved in robotics and software development — his dream being a job at Google.
Some of Christopher's passions include tennis, being outside in nature, and running. During quarantine he has been taking online courses and programming, getting some hitting practice in, and exercising.
Christopher first started playing tennis when he joined NYJTL five years ago through the ACES program. He said as soon as he started playing tennis it stuck with him and he began to get involved with other programs, such as CTP and the Tournament Team at the Cary Leeds Center. For the past couple years, Christopher has been coaching with CTP at Crotona Park, which he intends to keep doing. Christopher sees himself playing the game throughout his whole life.
"[Coaching] is something that I look forward to, just coming back during summers and helping out… The program really means a lot to me. It's served as the foundation for many of the traits that I have now. I've met a lot of people there who I'm still friends with and I still talk to. Those people really helped in a lot of points in my life and have given me a lot of opportunities. Through NYJTL I've been able to do a lot of things like go to the US Open."
One of Christopher's biggest inspirations is Coach Eugene, who was one of his very first tennis mentors. Christopher admired  Eugene's wisdom and intelligence, as well as how athletic Eugene was despite his age. He hopes he'll be able to stay in as good shape when he's older.
Christopher is a big dreamer and goal-setter. His favorite quote is, "People without fantasies don't do fantastic things." He thinks you should always try your best and work hard even when others present doubt.
Rasheed Johnson
Rasheed graduated from John Dewey High School and will be studying psychology at Kingsborough Community College in the fall. Rasheed loves to help people and is fascinated by human reaction which inspired him to pursue a career as a psychologist. He has a passion for photography and has been spending a lot of his time in quarantine doing summer courses.
Rasheed has been a part of NYJTL since he was in 2nd grade. Joining CTP was the first time Rasheed had ever played tennis, which he hopes to do for the rest of his life. His home site is Sperandeo Park at IS 302, where he has both played and coached.
"[NYJTL] means a lot to me because it allowed me to gain a lot of social skills. It also opened me up to a lot of opportunities. It's a lot of fun and it gave me my first job."
Rasheed looks to his parents as a source of inspiration; he admires how hardworking and resilient they are. His favorite quote is "Everybody is a genius. But if you judge a fish by its ability to climb a tree, it will live its whole life believing it is stupid," by Albert Einstein. He advocates that instead of judging other people's abilities we should be encouraging everyone, and ourselves, to get better at the things we might struggle with.
Geanna Richard
Geanna is a recent graduate from John Jay High School. She will be attending Tabor College in the fall where she will be studying finance, as she hopes to invest in stocks and real estate in the future. Geanna also intends on pursuing tennis in college, as well as pro tournaments.
"Tennis is a life-long sport and I intend to keep on playing, keep on pushing, and get myself better."
Besides tennis, Geanna also has a love and curiosity for science. During quarantine she has been working out, practicing her tennis skills, writing, taking college classes, and getting artistic with watercolor paints. 
Geanna joined NYJTL when she was in seventh grade with the ACES program, which is when she was first introduced to tennis. She later joined CTP at the Linden site and then ITP and Tournament Team at Cary Leeds. Geanna has also done some volunteering with CTP at the Highland Park site.
"In the future I'd like to give back because they helped me a lot with my game. I'm going to stay in touch with all the people who helped me in my journey and try to give back to the community. [This program] means a lot. I've made an entire family and have a huge support system behind me. They've helped me a lot mentally and they just care for me, which I appreciate a lot."
Geanna said her dad is one of her biggest inspirations because he is always there to motivate and support her. She also appreciates how he is also always honest and upfront with her. She said a piece of advice that she lives by is to "leave it out on the court and give it your all because you never know when you'll play again." Geanna said she always tries to give her best effort to everything she does and has control over because you can never be sure what will happen — Covid-19 being the perfect example of this. She said this advice motivates her and helps her manage her expectations in regards to things she can't control.
Zoe West
Zoe graduated from the High School of Art and Design, where she majored in illustration. In the fall she will be attending Wheaton College in Massachusetts, where she plans to major in environmental science and will be playing Division 3 tennis. Zoe's dream job is to be a tennis player, however, she also has goals to work in sustainability.
Zoe has a passion for tennis and a curiosity for science, mainly plants, which she's always loved learning about. In quarantine, Zoe has been spending her time traveling with her mom, who is a teacher — she's been to North Carolina and is now in Washington state. She can't wait to get back on the court.
Zoe first started playing tennis when she joined NYJTL at six years old. She has played with CTP during summer, fall and winter seasons. Last year she also coached the little kids and she intends on giving back to the program in the future.
"I don't think I would have the skills that I have now without this program. I really appreciate having made friends, having the tennis tournament experience without having to spend so much money. I really appreciate the sport and they really made it fun."
One of Zoe's biggest inspirations is Serena Williams. Zoe said it is inspiring to see Serena, a young black woman who came from a low-income household, have one of the most successful careers in tennis.
A quote Zoe lives by comes from tennis legend Arthur Ashe: "Start where you are. Use what you have. Do what you can." She said this resonates with her because everyone has bad days, but if you have patience and are able to come up with outside-the-box solutions you can achieve what you want.
Shreeganesh Venkatesh
Shreeganesh is a recent graduate from Iona Preparatory High School. He will be attending University of New Haven where he will be studying chemical engineering. He hopes to work for a pharmaceutical company or the federal government.
Shreeganesh is a sport lover with a passion for playing tennis and basketball, running track, as well as watching sports. He also really enjoys chemistry. During quarantine, he has been taking a couple of college classes.
Shreeganesh first joined NYJTL when he was twelve years old, where he attended CTP at the New York Tennis Club site. Last year he coached during the winter season in Crotona. Tennis has become a major hobby for Shreeganesh and he intends to continue playing well into his adult life.
"Being a part of this program has been a really great experience. Everyone is like a family there."
Shreeganesh said one of his main inspirations is his mom because of her hard work ethic and perseverance. He said from a young age she instilled in him an attitude of chasing after his dreams.
Shreeganesh said he is relieved to have graduated and is excited for college.
Written by Christina Perrier