Not even the snowstorm in the early morning hours of March 4, 2019 could stop the finalists of the Tie Break Tens Challenger USA from getting to their destination– the BNP Paribas Open in Indian Wells, California. Cancelled flights, early trains to the Philadelphia airport, and Los Angeles rush hour traffic proved only to be mere inconveniences. On March 5 the players woke up to a clear, bright morning.
At 9 AM, the players arrived at the BNP Paribas Open, also known as Tennis Paradise. Soon after, Keisha, Imani, Deliala, and Alani stepped onto Court 2 of the Indian Wells Tennis Garden, outfitted in brand new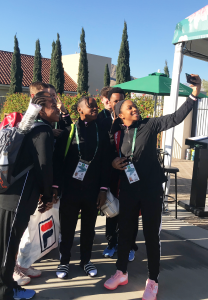 FILA tennis apparel, including skirts, tanks, polos, and shoes. Shawn, Romero, Christian and Charlie, also in their new FILA apparel, ran drills to acclimate to the outdoor court, situated in the Coachella Valley. The Tie Break Tens Challenger was set to begin.
After two hours and 10 round-robin matches, Deliala Friedman and Charlie Robertson proved triumphant as the winners of the 2019 Tie Break Tens Challenger USA! Their victories were sealed by a trophy presentation from Cy Dofitas, US Grassroots and Promotions Manager of Wilson Racquet Sports. But the trip of a lifetime wasn't over yet.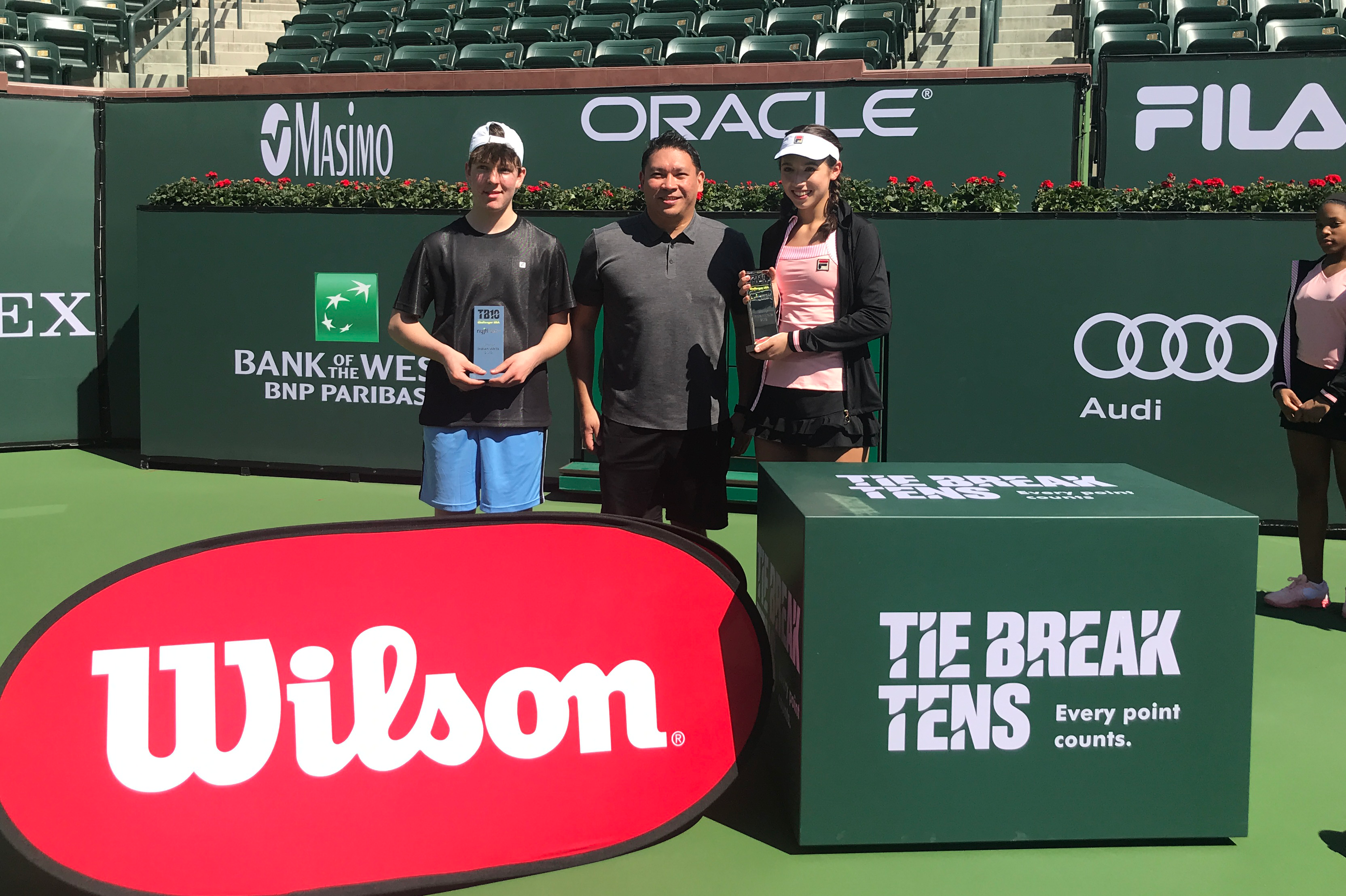 The players spent the day living like the pros, dining in the VIP Players Lounge and watching the BNP Paribas Open qualifiers. During the afternoon, the players got exclusive, behind-the-scenes access to the Wilson Tennis photo shoot with Serena Williams and Roger Federer. On behalf of Wilson, each player was gifted a Clash Racket, their newest edition that utilizes revolutionary racket technology. Keisha said of the experience, "My heart lifted when we were able to play on [grass courts] to try out our new rackets. We even got a hello from the one and only Roger Federer and saw little Olympia playing on the grass."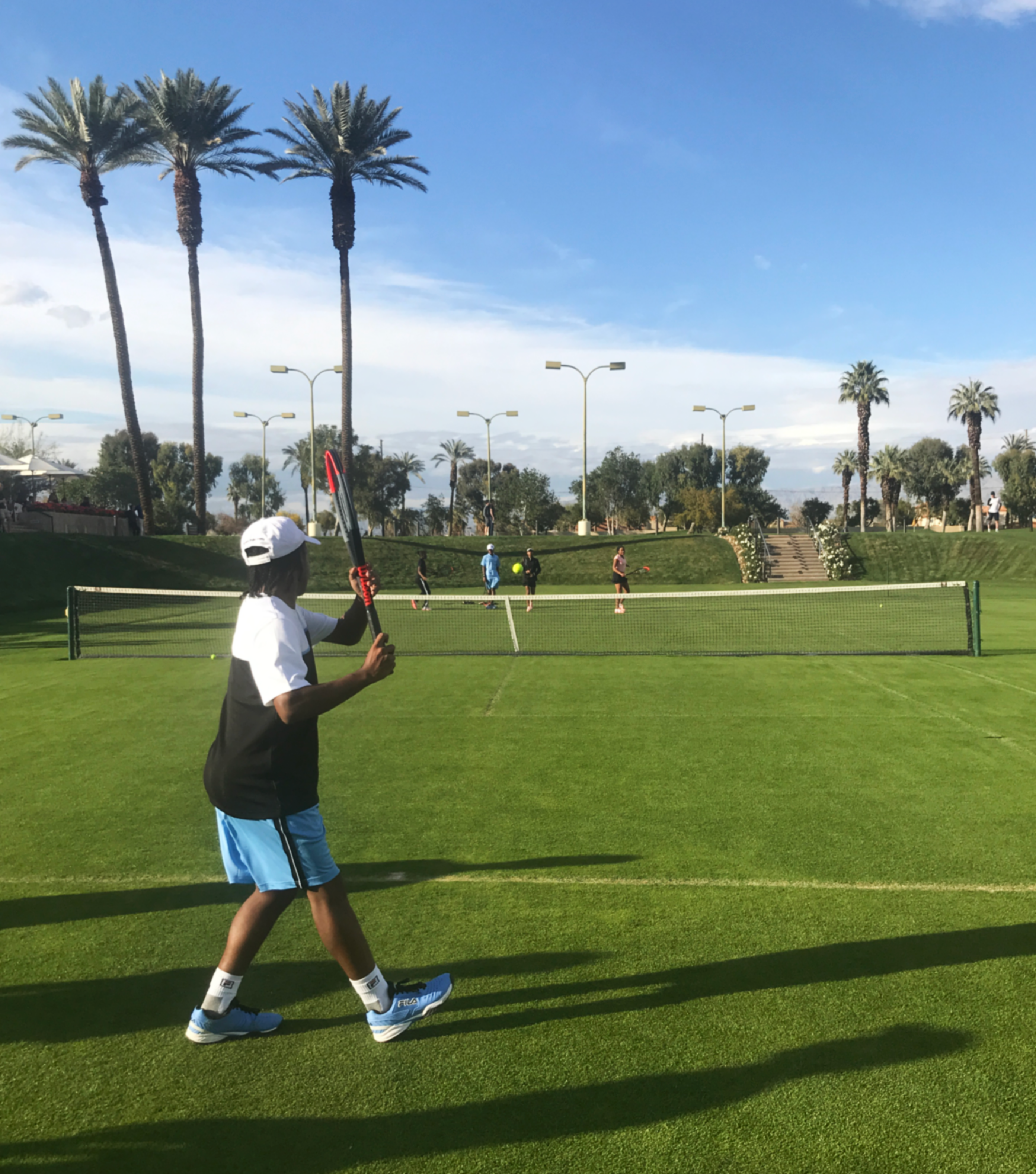 Back at the Tennis Garden, a brief bout of rain threatened to end the evening early, but the skies cleared in time for Tie Break Tens Inaugural Eisenhower Cup, headlined by eight of the world's top Mens players including Rafael Nadal and Stan Wawrinka. As the tournament began, the kids got their 15 minutes of fame as their interview with an announcer was broadcast to the stadium's nearly 8,000 spectators. Cary Leeds Center Director of Tennis Liezel Huber and Tournament Director Mark Oljaca also basked in the limelight when the Tie Break Tens Challenger sponsorship video broadcast on the big screen as well.
---
Both the Cary Leeds Center and NYJTL would like to extend the most grateful thank you to Tie Break Tens, the team at FILA including Lauren Mallon, Senior Global Marketing Manager, and Wilson Tennis for their incredible generosity in organizing this opportunity for our players. As Keisha described it, "It really is Tennis Paradise."