On Friday, August 26 New York Junior Tennis & Learning (NYJTL) was joined by RALLY4EVER at the Cary Leeds Center for Tennis & Learning for a tennis clinic. RALLY4EVER is a not-for-profit organization that aims to foster community connection through tennis, emphasizing the benefits of tennis for mental health and overall sense of well-being. The morning consisted of more than 100 children from across the Bronx joining NYJTL tennis coaches and RALLY4EVER CEO and former professional Australian tennis player, high-performance coach & grand slam commentator Louise Pleming to sharpen their tennis skills and create meaningful relationships through the sport.  
"I've always believed that through movement we can create connection and momentum to empower people, and what better way of doing it than through the game of tennis," said RALLY4EVER CEO & founder Louise Pleming. "It's such a privilege to be working alongside such an established organization that has helped so many young kids live out their dream of becoming professional tennis players."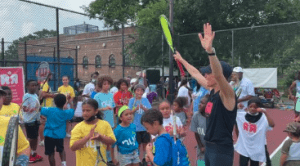 "We are so excited to be partnering with RALLY4EVER," says NYJTL President & CEO Udai Tambar. "The youth that we serve come from underprivileged communities across the city, so collaborations like this that underscore the importance of mental wellness are paramount to addressing the needs of our youth." 
Many of the children who attended Friday's event are from the South Bronx community, which is the poorest Congressional district in the nation. NYJTL's core values include a deep commitment to mental wellness of the children its programs serve, especially as research shows that low levels of household income are associated with several lifetime mental disorders. The morning's activities not only strengthened participants' tennis skills, but also celebrated their resilience and bravery when approaching challenges on-court. This encouraged the children to maintain a positive mindset in the face of adversity and cheer each other on while trying new things- lessons the group brought off the court as well. The day concluded with a shared meal, and the kids left the tennis court with new skills, new friendships, and increased confidence when facing life's challenges.