NEW YORK (June 26, 2022) – New York Junior Tennis & Learning (NYJTL) is excited to announce that the "Ashe '68 Documentary Project" is now open for viewing at the Cary Leeds Center for Tennis & Learning. This unique multi-component project, created and produced by director and cinematographer Rex Miller, celebrates the life and legacy of NYJTL's founder Arthur Ashe, the groundbreaking tennis champion and civil rights activist. The project uniquely commemorates Ashe's historic 1968 US Open championship victory, which made him the first Black man to win a Grand Slam tennis tournament and the first American to become the US Open Men's Champion.
"We are so excited to bring the legacy of our visionary founder and illustrious tennis star Arthur Ashe to the thousands of families and children we serve in all five boroughs," says NYJTL President & CEO, Udai Tambar. "Our investment in the south Bronx provides the community with the opportunity to experience this one-of-a-kind exhibition."
This immersive project features several components that provide viewers with an intimate showing of Arthur Ashe's personal evolution from a tennis legend to international human rights advocate. One of these features is the "Ashe '68 VR Experience". Previously previewed at the 2018 US Open, this virtual reality experience brings viewers at the Cary Leeds Center to Ashe's historic 1968 win, combining 360° video recreations, archival material, and never-before-seen stop motion animation to tell his story. Viewers can be completely immersed in this captivating viewing, from Ashe's walk through the halls of West Side Tennis Club to his historic pre-match press conference, all presented from the Tennis Channel Broadcast Center at the Cary Leeds Center.
"Many children in this community are not exposed to tennis because it is seen as a White-dominated sport," says NYC Council Member Rafael Salamanca Jr., who represents the 17th District including the South Bronx. "It is a wonderful opportunity for them to learn about tennis through the life of civil rights activist Arthur Ashe, while learning about his drive and dedication to creating change. This exhibition is very motivating for all its viewers."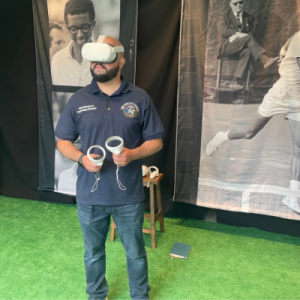 Along with the virtual reality experience, guests can enjoy viewing the Photo Exhibit in the lower outdoor terrace of the Cary Leeds Center. This features a series of photographs by John Zimmerman documenting Ashe's historic victory. Launched in 2018 at the International Tennis Hall of Fame and later exhibited at the Billie Jean King National Tennis Center, it features sixteen Vibrachrome panels that uniquely capture never before seen images of Ashe's life both on and off the court.
As part of NYJTL's partnership with CNN Films and Picture Motion, on June 10, 2022, the film portion of Ashe '68 was enjoyed by NYJTL's participants via an exclusive private screening of their original documentary Citizen Ashe to students from four NYJTL Bronx after- school programs. The ACES Afterschool students, all coming from the local south Bronx community and poorest Congressional district in the nation, gathered in the state-of-the-art Cary Leeds Center to discuss Ashe's dedication to social justice and tennis with the film's creator Rex Miller. Finally, the afternoon concluded with an on-court component to actualize Ashe's vision of using tennis and education as tools for social good.
"The greatest lesson youth can learn from Arthur's life is that anyone can make a difference," says brother of Arthur Ashe, Johnnie Ashe. "What made him great was his ability to lead with strength, integrity and purpose, and that was his gift to mankind."
After the success of CNN's screening, NYJTL is welcoming the community to view the "Ashe '68 Documentary Project" free of charge at the Cary Leeds Center all summer, culminating at the 2022 NYJTL Bronx Open, the women's $60,000 USTA Pro-Circuit Tournament during the week leading into the US Open Qualifying tournament from August 15-21, 2022.