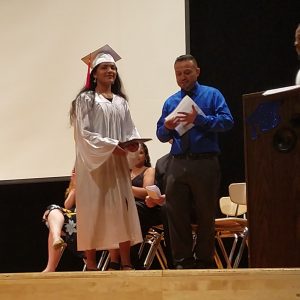 What borough do you live in?
I am from Queens and have lived in Queens my whole life.
How did you learn about NYJTL?
I originally learned about NYJTL from my middle school, PS/MS 219 Paul Klapper School.
How many years have you been with NYJTL?
I have been with NYJTL for 3 years, and have loved every minute of it!
What school did you just graduate from?
I just graduated as the valedictorian from PS/MS 219 Paul Klapper School.
What school will you be attending in the fall?
The high school that I will be attending in the fall will be Stuyvesant High School.
What borough is your high school in?
Stuyvesant High School is on the lower west side of Manhattan.
What grade/year of school will you be entering?
I will be a freshman at Stuyvesant in September, I am really excited!
What is your favorite part about NYJTL?
My favorite part about NYJTL is the tennis.  Soon after I first discovered tennis I realized that it was my favorite sport, and that I have really learned a lot from the game.
What do you like the most about tennis?
My favorite part about tennis is the life lessons that I learn with the game, like perseverance, determination, and self-confidence.
What is your favorite tennis shot?
My favorite tennis shot the two-handed backhand.
When was the most memorable match in tennis to you?
The most memorable match in tennis for me was the Australian Open Final in 2010 between Serena Williams and Justine Henin.
What do you attribute your success to?
I attribute my success to my teachers, my coach, my family members, my friends, and anyone else who has ever supported me in my life.
Do you have any mentors in NYJTL, if so who?
Yes I do have a mentor in NYJTL, my amazing coach, Oscar Gonzalez.
Was there a take away from the program that helped you academically?
The program has assisted me in building up my confidence and determination, which has helped me academically.  Without being determined and confident in who I am, I would have never been able to succeed, and will never be able to succeed in life.
What will you miss most about NYJTL?
I think that I will miss the NYJTL family the most, all the wonderful teachers and students that I have met throughout the years.
What do you want to major in when you go to college?
I would like to major in both Math and Science, they have been my favorite subjects for as long as I can remember.
What career would you like to pursue when you grow up, and why?
Since I enjoy Math and Science so much I think that a career in Computer Science would be a perfect fit for me.