From April 12-17, 2022, New York Junior Tennis & Learning's (NYJTL) Director of Tennis Ahsha Rolle was selected to assist USTA National Coach Lori Riffice in coaching the Girls 14's and 16's USA team in a training camp that ran in conjunction with the Billie Jean King Cup in Asheville, North Carolina. The junior team had a productive week of training and were able to cheer on Team USA to a 3-2 victory. Ukraine's national team was a skilled opponent and brought the competition down to a deciding doubles match.  
"Being able to meet Billie Jean King felt very special to me," says Rolle. For King, matters of tennis were always much greater than the player. Much of her legacy is characterized by breaking down gender barriers both on and off the court, and the tournament, renamed in her honor in 2020, echoed these sentiments. "I was intrigued to learn that at the age of 11, Billie Jean King's goal was to be ranked No. 1 in the world because she wanted to positively impact women's prize money," Rolle recalls.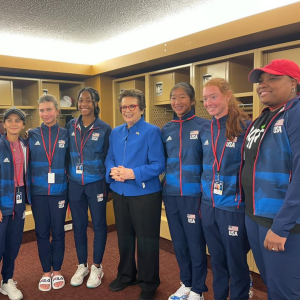 In addition to gaining invaluable knowledge from King, the young girls were able to make the most out of the week-long training camp. The girls team endured cold early morning workouts, full days of multiple tennis and fitness sessions, and team building exercises. Rolle, a former touring pro who also previously was a member of the USA Billie Jean King Cup team, had a hands-on role in preparing the young girls for their next tournament. Through the help of Rolle's coaching, the USA junior girls team learned professionalism, how to overcome adversity in tough environments, and were able to prepare for the upcoming Regional Qualifying for Junior World Championships next month in Mexico. "Working with these girls was a full circle moment for me having competed in the Billie Jean King Cup previously," said Rolle. "It was memorable being able to use my experiences and influence our youth in a positive way." 
Tournaments like this display the ways in which tennis has the power to bring together the community, even on the international level. Though Team USA was competing against Team Ukraine and eventually won the victory, the tournament was filled with moments of solidarity for Ukraine and its people in light of the ongoing war and violence facing the country. There were many symbolic gestures throughout the competition as Team USA showed their support and celebrated the strength and resiliency of the visiting Ukrainian team. "The solidarity for Ukraine was very powerful," said Rolle.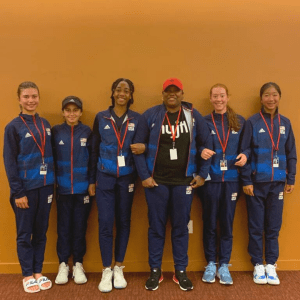 NYJTL is proud to have had our very own talented change maker play an important role in training the girls on the junior national team ahead of their international competition next month. She wishes them the best of luck in next month's tournament!