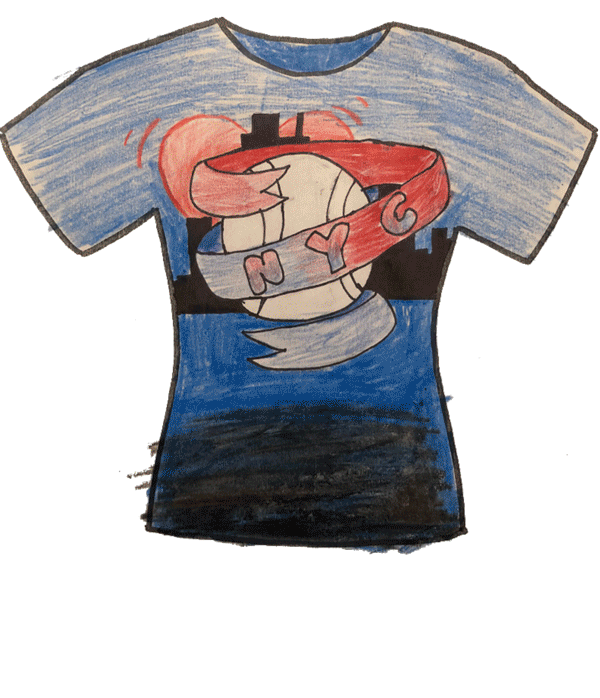 NYJTL and AD LOVE would like to announce Conor from the Bronx as the winner of the Draw for Love Challenge! Conor got to see his design go from crayon on paper to a high quality screenprint. The design has been screen printed on a 100% medium-weight ring-spun cotton dark grey long sleeve tee. All profits from the sale of the t-shirt benefit NYJTL's transformative tennis and education programs.

NYJTL and AD LOVE, a grassroots tennis apparel company,  partnered for the NYJTL x AD LOVE Draw for Love Challenge! Over 1,000 participants in the ACES Afterschool Program submitted drawings featuring elements of New York City, love, and of course, tennis. After much deliberation, Conor's design stood out above the others based on the inclusion of the three elements and his artistic execution.
The T-Shirt Design Challenge gave students a chance to not only to express themselves creatively, but to see their design benefit the entire under-resourced population that participates in NYJTL programs. Arts and design are increasingly being adopted into traditional STEM disciplines of science, technology, engineering and mathematics in order to stimulate innovation. Research conducted by Michigan State University suggests that children involved in arts programs used their artistic skills "such as analogies, playing, intuition and imagination to solve complex problems."   The challenge presented an opportunity to foster a child's artistic expression for the benefit of their peers and their community, with the hope that these children will continue to apply creativity and innovation to other areas of academia and their future career paths.