On March 22, 2022 the Cary Leeds Center for Tennis & Learning hosted administrators from over 50 schools in New York City Community School District 9 to discuss the opportunity to provide tennis instructional programming to their students. This joins a breadth of community outreach initiatives to bring resources and access to meet the diverse needs of families in the south Bronx. School District 9 contains one of the largest public housing units in the Bronx. Though tennis has historically been viewed as a space for predominantly wealthy members of society, this collaboration with District 9 aims to bridge the gap in the sport and bring equity and opportunity to youth in need.
"This is a very powerful partnership with NYJTL," says Community School District 9 Superintendent Harry Sherman. "NYJTL is providing our students with access to a beautiful sport that they otherwise might not have had the opportunity to experience. This access is a crucial component to equity, and we are so excited that professional tennis instruction and resources will be brought to our students."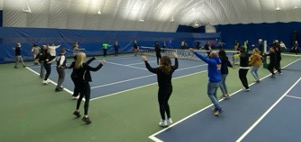 Principals were able to participate in dynamic warmups and on-court time to give them a glimpse into what their students will experience. NYJTL's certified coaches will train school staff on how to teach the fundamentals of tennis in school, and will provide instructional drills and games to use during physical education time. The impact of tennis on youth goes far beyond the court. Bringing tennis into schools provides physiological and social emotional exposure to children, which is essential particularly as young people in the city slowly return from sedentary lifestyles brought about by the pandemic.