On Friday, August 26 twenty participants from New York Junior Tennis & Learning (NYJTL)'s Community Tennis Program (CTP) gathered at the ASICS store in the Meatpacking District where they were joined by Italian professional tennis player Matteo Berrettini. Berrettini competes in the US Open this week, and before the start of the major Grand Slam event he spoke to our program participants on his personal journey in tennis, along with other anecdotes that inspired the group of NYJTL's young tennis players.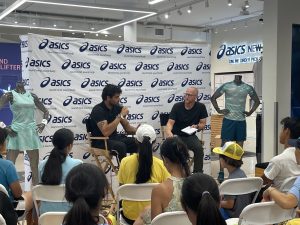 Among the motivational question and answer session, Berrettini shared accounts of how he practices before a major tournament, what he enjoys eating in preparation, how a crowd's energy impacts his performance, and the ways he deals with the rigorous ranking system in tennis. Then, the participants were surprised with a gift of a $150 voucher to use on ASICS tennis shoes and apparel, along with a generous donation to NYJTL's programs.  
"We are so excited to have the opportunity to connect our kids to professional tennis," says NYJTL President & CEO Udai Tambar. "We are grateful to ASICS and Matteo Berrettini for motivating our children in this critical time ahead of the US Open." 
This event joins the many ways in which NYJTL provides opportunities for NYC youth to engage with world-class professional tennis players, such as the free NYJTL Bronx Open that concluded the week prior. By meeting professional world-class players, NYJTL youth witness individuals who have displayed incredible perseverance and resilience to achieve their dreams, motivating them to do the same.