All levels welcome, ages 5 – 18, Rain or Shine!
Summer Tennis Camp Programs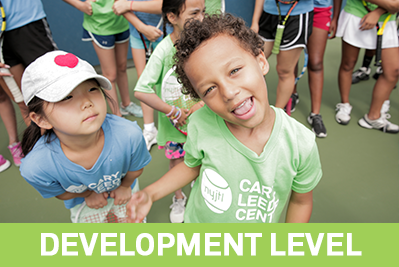 Move, Groove & Improve.
Fun, fun, fun! Campers spend the day keeping active on court, making new tennis friends, and having a blast! Low compression balls are utilized to accelerate learning and make mastering skill and technique easier.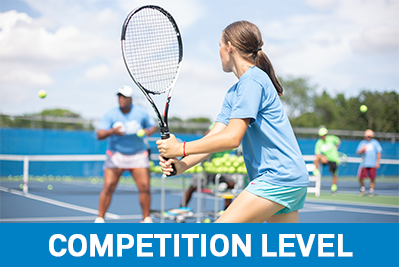 Train like the Pros.
High Intensity! Led by an excellent team of coaches and designed for advanced players, competition level training allows players to sharpen skills, improve technique and understand high performance play strategy. Daily schedule includes tennis instruction, mental toughness training, and fitness conditioning. Those wishing for the most competitive training may try out for the NYJTL Tournament Team.

Schedule
June 12 – August 25
See weekly schedule below

Hours
10:00 am – 4:00 pm
Tennis: 10 am – 12 pm
Fitness, Games, & Lunch: 12 – 2 pm
Tennis: 2 – 4 pm

Price
Daily Rate: $155
Weekly Rate: $700
| Week | Date | Price |
| --- | --- | --- |
| Week 1 | Mon, June 12 – Fri, June 16 | $700/week or $155/daily drop-in |
| Week 2 | Mon, June 19 – Fri, June 2 | $700/week or $155/daily drop-in ** LIMITED SPOTS AVAILABLE |
| Week 3 | Mon, June 26 – Fri, June 30 | $700/week or $155/daily drop-in ** LIMITED SPOTS AVAILABLE |
| Week 4 | Wed, June 5 – Fri, July 7 | $420/week* (3-day week) or $155/daily drop-in |
| Week 5 | Mon, July 10 – Fri, July 14 | $700/week or $155/daily drop-in |
| Week 6 | Mon, July 17 – Fri, July 21 | $700/week or $155/daily drop-in |
| Week 7 | Mon, July 24 – Fri, July 28 | $700/week or $155/daily drop-in |
| Week 8 | Mon, July 31 – Fri, Aug 4 | $700/week or $155/daily drop-in |
| Week 9 | Mon, Aug 7 – Fri, Aug 11 | $700/week or $155/daily drop-in |
| Week 10 | Mon, Aug 14 – Fri, Aug 18 | $700/week or $155/daily drop-in |
| Week 11 | Mon, Aug 21 – Fri, Aug 25 | $700/week or $155/daily drop-in |
For external transportation options, please inquire at the front desk.

Refund, Cancellation, and Make-up Policy