Move, groove and improve your tennis skills at the Cary Leeds Center! The Development Level Program introduces tennis basics while improving self-confidence and athleticism. Using low compression balls, proper sized courts and equipment and modified scoring, we enable children to learn tennis faster.
Programming will continue rain or shine!



ROGY Method
ROGY is an acronym (Red, Orange, Green, Yellow) for the progression of low-compression tennis balls that junior players use at each stage of development to maximize fun and skill acquisition, beginning with the red ball and advancing through to the traditional yellow ball.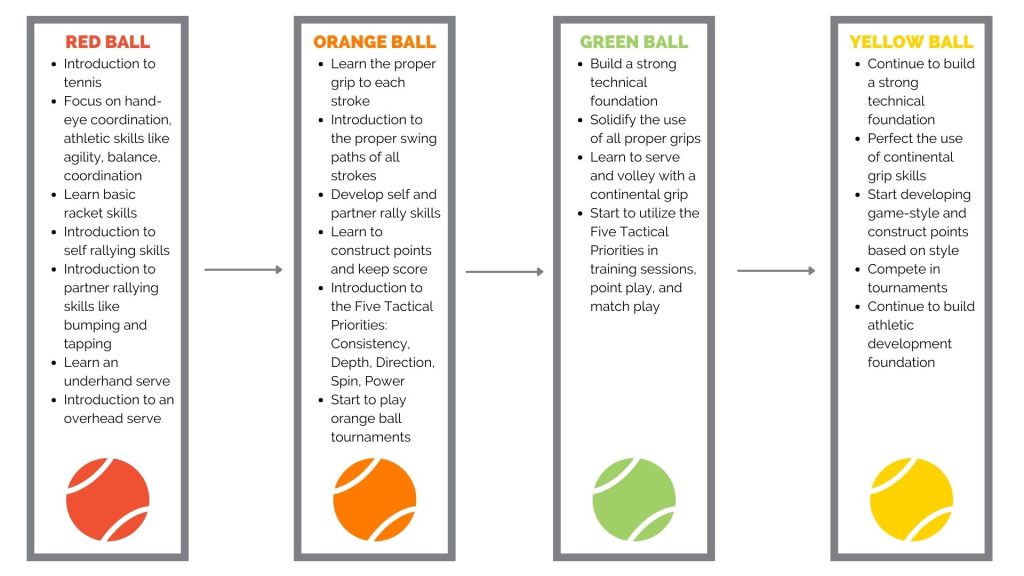 Red Ball (Ages 5 & up / No UTR Required)


Kids progress through the red ball level classes obtaining an understanding of the appropriate use of grips, stance and some specific tennis footwork patterns. By the end of the Red class series, players will learn to rally, serve and score.

Orange Ball (Ages 8 & up / No UTR Required)


Players are now further challenged with the Orange Level with faster balls on a 60' court. Kids develop sound technique using correct grips and swing patterns. Movement, speed, coordination and dynamic balance skills are further developed. Players will improve their consistency and start using some advanced patterns in point construction. At this stage training will focus on live ball situations and match play.

Green & Yellow Ball (Ages 10 & up for Green ball, Ages 12 & up for Yellow ball / No UTR Required)


Training is designed for novice players ages 11-14 and beginner players ages 14-18 on a full size court where players will be able to move dynamically and use all footwork patterns. Players will work on developing first and second serve with depth, direction and spin. They will learn to recognize when to defend & attack and develop a strategy when constructing points. Training focuses on improving players ' net game skills, including approach shots, swing volleys & overheads. Players will work on singles and doubles strategies.
Program Components:
One 2 hour class for Red, Orange, Green and Yellow Balls.
Provides group instruction for players of all levels, focusing on teaching technique, learning consistency, and point construction.
Universal Tennis Rating (UTR) is a reliable, accurate index that rates players' skill in tennis. UTR rates all players—men, women, and children—on a single 16-point scale (with two decimal places, e.g., 11.29) that works for players globally regardless of their skill level, from beginners to top professional competitors.
Sessions:
September 7, 2023 – January 21, 2024
Break Weeks:
Thanksgiving Break: November 23, 2023 – November 26, 2023
Holiday Break: December 19, 2023 – January 1, 2024
The following dates may incur rescheduling.
Schedule
Level/Age Group
Class Days and Times
(Choice of 2 hour class)
Fee per Session
Red Ball
5 & up
Saturday, 9–11 am,
OR
Sunday, 3-5 pm (3-4:30 pm fitness, 4:30-5 pm tennis)
$1,850
Orange Ball
8 & up
Thursday, 4-6 pm
Saturday, 9–11 am
OR Sunday, 3-5 pm (3-4:30 pm tennis, 4:30-5 pm fitness)
$1,850
Green Ball
10 & up
Saturday, 9–11 am,
Sunday, 4-6 (4-5:30 pm tennis, 5:30-6 pm fitness),

$1,850
Yellow Ball
12 & up
Saturday, 9–11 am
OR Sunday 4-6 pm (4-4:30 pm fitness, 4:30-6 pm tennis)
$1,850
Contact us at caryleedsinfo@nyjtl.org or 718.247.7420 for more information.
For external transportation options, please inquire at the front desk or visit Kidault, a family friendly rideshare app.
Limited parking spots available at designed parking lot.  It is first come, first serve.  Please contact the front desk at 718-247-7420 for availability.
Maximum 3 makeups permitted per each session.
Changes to program selection will incur a $10 Admin Fee.Refund, Cancellation, and Make-up Policy