For 49 years, NYJTL has provided a safe place for children to learn tennis, receive academic enrichment, and interact with their friends and mentors. Our mission is important now more than ever as the city navigates the continuing COVID-19 health crisis.
On Wednesday, November 18, we will share three new videos, featuring NYJTL stories of resiliency, perseverance, and hope for a brighter future. We invite you to be inspired by this 25-minute program.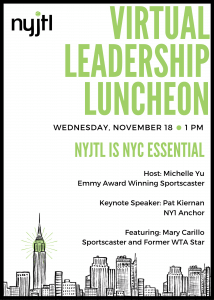 Donations are welcome but not required—register here.

With Special Thanks:
NYJTL is grateful for Lawrence B. Benenson and The Frances and Benjamin Benenson Foundation, who have generously underwritten the Leadership Luncheon for 35 years. Because of their generosity, all contributions directly benefit NYJTL.
NYJTL is grateful for this year's early Luncheon sponsors
Grand Slam
Wendy and Douglas Eisenberg
Gray Foundation
Tory Kiam
Laurence C. Leeds, Jr.

Ace
John Arnhold
Chad Erickson
Deborah Larkin
Goldfarb & Fleece LLP
May and Samuel Rudin Foundation
Paul, Weiss, Rifkind, Wharton & Garrison LLP
Kunj Majmudar
Peter Malkin
Sidney Migdon
Seven Bridges Advisors
Polly Scott
Steve Simkin
Anonymous

Champion
ACE Housing Foundation
Henry Buhl
Bob Horne and Laurie Lindenbaum
RBC Capital Markets
Jason Spacek
USTA

Pro
Deborah Antoine
Robin Aviv
Allison Bodenmann
Diane Buchman
Yvonne Buysman
Alvin Crawford
Susan Chapman-Hughes
Robert Foman
Martin Goldberg
George Guimaraes
Bob Harrison
Peter Kellogg
Douglas Koff
Fay Ann Lee
Bruce Manson
Matthijssen Business Systems
Andrew Morse
Salil Seshadri
Robert and Maureen Siefert
Rebecca Stein
Karen Urban
NYJTL Board of Directors

Chairman
Martin S. Goldberg
Vice Chairman
Tory Kiam

Vice Presidents
Carlos Cuevas
Karen Ikeda
Steven Simkin
Treasurer
Robert Horne
Secretary
Polly Scott
President and CEO
George Guimaraes
Stacey Bennett
Allison Bodenmann
Gary Brody
Yvonne Buysman
Susan Chapman-Hughes
Alvin Howell Crawford, Jr.
Douglas Eisenberg
Howard Endelman
Robert H. Harrison
Derek Irby
Kyle Kliegerman
Douglas Koff
Deborah Slaner Larkin
Fay Ann Lee
Larry Leeds
Stacey Locker
Arlene Maidman
Kunj Majmudar
Randy Master
Mercedes Michel
Sidney Migdon
Brian O'Connor
Mark H. Rachesky
Zakiyyah Salim-Williams
Matthew Snyder
Eric Sobotka
Rebecca Stein
Karen Urban

Chairman Emeritus
Lewis H. Hartman
Jim O'Neill
Directors Emeritus
Lawrence B. Benenson
David N. Dinkins
Peter Malkin
Rob Rahr